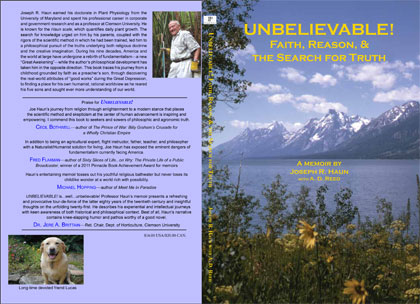 to order direct from our CreateSpace store, click here
Dr. Joseph R. Haun died Friday, January 25, 2013, at age 90. He lived vibrantly and enthusiastically, and when he was diagnosed with cancer of the lungs and bone, he vowed to fight the disease and continue his joyful passage through our world. Sadly, medical therapies were unable to halt the cancer's advance or metastasis into his spine. Now we must bid him a fond and loving farewell, and be grateful that we can still learn lessons from his written words.
During Joe's nine decades of life, America and the world at large underwent a rebirth of fundamentalism—a new "Great Awakening"—while his philosophical development took him in the opposite direction. Unbelievable traces his journey from a childhood grounded by faith as a preacher's son, through discovering the real-world attributes of "good works" during the Great Depression, to finding a place for his own humanist, rational worldview as he reared his five sons and sought ever more understanding of our world.
Dr. Haun earned his doctorate in Plant Physiology from the University of Maryland and spent his professional career in corporate and government research and as a professor at Clemson University. He is best known for the widely used Haun scale, which quantifies daily plant growth.
Reviews
The Humanist magazine
Unbelievable! is the story of [Joe] Haun's journey from a very traditional Christian rural upbringing to atheism, humanism, and the cutting edge of modern agricultural research. As he recounts his growth out of a somewhat laissez-faire fundamentalist family, via horse-drawn wagon, into the discipline and discovery of a life in science and agronomy, the author's abiding pleasure is evident everywhere.
The imperative story Haun conveys is that fundamentalist religion poses a threat to human survival because it substitutes faith in authority for trust in reason and science. The benefits of pharmaceuticals over beseeching gods, of explanations from astrophysics over reliance on Genesis origin myths seem quite clear. But the author goes further in demonstrating how he was able to traverse the path from traditional religious faith to Enlightenment principles of conjecture, experiment, and proof, and shows how others can too.
Haun's low-key style and traditional dedication to family and community may very well speak to a wider swath of Americans than [Richard] Dawkins' erudition or [Christopher] Hitchens' pretentious stylizing. Haun's life is an everyman tale, his shining accomplishments cast as attainable by anyone with a desire to know and a willingness to do the work required.
CECIL BOTHWELL—author of The Prince of War: Billy Graham's Crusade for a Wholly Christian Empire
In addition to being an agricultural expert, flight instructor, father, teacher, and philosopher with a Naturalist/Humanist solution for living, Joe Haun has exposed the imminent dangers of fundamentalism currently facing America.
FRED FLAXMAN—author of Sixty Slices of Life…on Wry: The Private Life of a Public Broadcaster, winner of a 2011 Pinnacle Book Achievement Award for memoirs
Unbelievable! is…well…unbelievable! Professor Haun's memoir presents a refreshing and provocative tour-de-force of the latter eighty years of the twentieth century and insightful thoughts on the unfolding twenty-first. He describes his experiential and intellectual journeys with keen awareness of both historical and philosophical context. Best of all, Haun's narrative contains knee-slapping humor and pathos worthy of a good novel.
DR. JERE A. BRITTAIN—Ret. Chair, Dept. of Horticulture, Clemson University