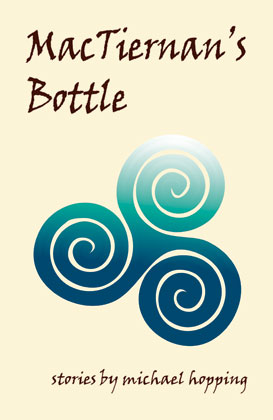 to order direct from our CreateSpace store, click here
Michael Hopping lives near Asheville, North Carolina. In a former life he was a practicing psychiatrist and medical director for a community mental health center. In search of less industrialized approaches to coping with today's world, he eventually left the field. His short fiction and creative nonfiction have appeared in Spoiled Ink, The Great Smokies Review, fresh, and the Mad Hatters' Review blog. His novel, Meet Me In Paradise, was published in 2007. Since 2003 Michael has also been an investigative reporter, features writer, and occasional commentator for Asheville's alternative monthly newspaper, The Indie. His website is http://www.michaelhopping.com/
Synopsis – MacTiernan's Bottle
The renovation of a backwoods motel reveals a previously unknown and powerful fresco, apparently concealed by the artist who created it. A young man, unsure about his own artistic career, asks himself why. In pursuit of an answer, Clayton stumbles across questions about himself he's never thought to ask.
The other protagonists in this richly told collection of short stories could well sympathize with Clayton. Some struggle with idealism, others with innocence or what constitutes a healthy family, or such subjects as the dawn of premeditation, the function of art, estrangement from themselves, and whether it's really possible to be selfless and in love.
Often humorous and always thought-provoking, MacTiernan's Bottle invites readers to dive into the worlds that Hopping has created and discover the lives of ordinary people in extraordinary circumstances. Like a garden in perpetual bloom, these are stories to revisit again and again.
Praise from writers
Hopping's characters range from old men to young women, and landscapes as diverse as an Ozark cave, a sleigh in Russia and a cramped airplane seat. He convinced me that his characters had not just life, but souls.
-Cheryl Dietrich, author, In Formation: Twenty Years Squeezing
into an Air Force Uniform (due in 2012)
Images glide on the surface tension of thought. Textures and feelings are rendered in bright realism, yet, as we spend our few minutes of incarnation in the surface light, we are constantly reminded of the astonishing blackness beneath, where our stories are born.
-William Henry Price, artist and poet
You pick up MacTiernan's Bottle for the pleasure of story. You linger for the beauty of language and the authority of narrative voice. You marvel at the cast of characters, who run the gamut from quirky to grave. Then, affectionately cursing the author, you think. And you think some more. In a literary world fraught with the flashy and the forgettable, you find the
mother lode: thirteen stories that linger in your mind.
-Elizabeth Lutyens, Editor, The Great Smokies Review
I'm at page 30 and cursing the urge to finish the whole bloody thing.
-Danny Ellis, singer-songwriter and author, 800 Voices