South Carolina native Sarah-Ann Smith's debut novel, Trang Sen, is rapidly becoming a popular choice for book clubs, whose readers are uninhibited in their praise. "Really a pageturner. I got nothing done yesterday and not a lot of sleep either." ~ "I finished your book and … my only regret was that it was the last page." ~ "I read your book over the weekend and could hardly put it down. It was captivating and enlightening."  ~ "You kept me up until 1:45 this morning!" ~ "It has all the makings of a best seller."
The book, in the words of Asheville Citizen-Times reviewer Carole Currie, "rings true" because Smith "puts a human face on a war that seems distant now, capturing the painful suffering of the Vietnamese and the problems and confusion faced by the ones who were brought to the United States."
Background
Sarah-Ann Smith's passion for Asia led her to earn a degree in international relations and Asian studies and to a career in the U.S. diplomatic corps. Her tours of duty took her to Taiwan to study Mandarin Chinese and to the American Consulate in Hong Kong as well as within the Foggy Bottom headquarters of the U.S. State Department. Her interest in Southeast Asia was originally piqued by encounters with a number of Asian students and their critiques of U.S. policy at the height of the Vietnam war. Her professional and personal focus on Asian political and cultural life led her to write about it in fictional form in this, her first novel.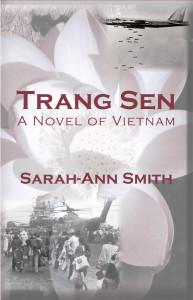 Smith's life after the Foreign Service has focused on writing and teaching. In addition to Trang Sen, she has published numerous op-ed pieces and has taught China- and Southeast Asia-related courses at universities in Maryland and North and South Carolina. Upon retirement she moved to Asheville, N.C. for fourteen years, and now lives in Spartanburg, S.C.
Synopsis
War and loss dog the heels of her and her family, yet Trang Sen, the Vietnamese heroine of Sarah-Ann Smith's new novel, is defiant. Rebellious and headstrong even as a child, she struggles to make more of her life than seems possible. As she moves from her parents' rice farm to the streets and alleys of Saigon, her world opens up — but as new paths become visible, others are shut off. Caught between her own dreams and the needs of her family, between her love for learning and the excitement of war-time Saigon, Trang Sen embarks on a journey that requires heartbreaking choices.
Americans tend to remember the Vietnam War as something painful that happened to us. We think much less about the experience or the much greater pain endured by the Vietnamese. In showing us that tragic time through the eyes of a Vietnamese woman growing up during the war, Smith also shows how Vietnamese lives were formed and deformed by that long travail, and about the kinds of choices so many were forced to make amid terrible circumstances.
Reviews
Sarah-Ann Smith opens Trang Sen with the legend of the brave queens of Vietnam and proceeds to show us the portrait of a beautiful land teeming with lives, in vivid colours that we can see, sounds that we can hear, along with scents, tastes and texture. Not only does she introduce us to the exotic culture and habits of the attractive locals, she delves deep into their fascinating minds with intriguing insights — expertly with the skills that remind me of the long ago Pulitzer award winner Pearl S. Buck
That is before Sarah-Ann empathically touches the issue of the war, which scenes remind me of Sartre. She opens our eyes to what it was really like … this book certainly opens eyes and powerfully evokes compassion. A phenomenal novel …. rich and flavorful, and more powerful is the simple way in which the story is told.
Ia Uaro, BookPleasures.com
Watch the YouTube review
Too few authors have addressed the fact that the American public is poorly informed about Vietnam … before … a senseless and brutal mistake of a war. Perhaps if more authors such as Sarah-Ann Smith did the obvious research needed to recreate pre-war Vietnam and explain Vietnamese customs that were so disregarded by a war that seemed to never end – a war that laid waste with napalm the magnificent flowering forests and jungles and vistas where once a simple soulful people lived in context with nature – perhaps if that were the case there would be fewer wars staged under the banner of "democracy" that serves as a feeding trough for corporate greed.
This book is a well-written story of insights into the Vietnamese plight, showing chapter by chapter the gradual influx of more and more troops and the changes that created in the land and in the dissolution of family structure. Smith draws her characters well … and it is through [Trang Sen's] eyes that we reexamine the tragedy that continues to fester in the hearts of all those who were involved in that war. Her graceful simple writing style shows sensitivity to the essence of the Vietnamese people. She offers a lot to absorb while she spins her tale of family, sibling love, coming of age, and bravery in the face of many varied forms of danger.
Grady Harp on Literary Aficionado & Amazon.com
A phenomenal novel that tells of a young girl discovering herself amidst war and life. The historical detail of the book is rich and flavorful and more powerful is the simple way in which the story is told, without artifice, that gives it a biographical touch. I highly recommend this poignant story.
Mary C., MyBookAddictionreviews.com (4 stars)
In showing us [this] tragic time through the eyes of a Vietnamese woman growing up during the war, Sarah-Ann Smith also shows how Vietnamese lives were formed and deformed by that long travail, and about the kinds of choices so many were forced to make amid terrible circumstances.  Trang Sen will give American readers a fuller understanding of the people we fought among for so many years but never really knew.
Arnold R. Isaacs, author, Without Honor and Vietnam Shadows
My only regret on turning the final page of Trang Sen was that it was the last page. Sarah-Ann Smith has introduced us to a small group of Vietnamese and American personalities caught in that ill-fated war. Though there are hints of later developments, at the last page they have just reached middle age, with one, Trang Sen's son, not yet old enough for high school. Half their lives await them but escape us. Can we somehow follow them, now that we  care? Perhaps the author will have pity on our curiosity, and will follow up with a sequel. We can only hope.
Frances X. Winters, Professor Emeritus, School of Foreign Service, Georgetown University
author, The Year of the Hare
The choices the title character of Trang Sen makes and the people she meets along the way are brought sharply to life by Sarah-Ann Smith's spare prose; we find ourselves, like Trang Sen, hovering in that strange space and time where the passions of Americans and Vietnamese came together but could not find stable purchase. . . . Smith depicts her characters and their surroundings with unusual cross-cultural empathy and a keen eye for detail. Part coming of age tale, part historical drama, part love story, Trang Sen vividly portrays the human cost of war while celebrating the resilience and imagination of the human spirit.
Mary Beth Mills, Professor of Anthropology, Colby College
author, Thai Women in the Global Labor Force: Consuming Desires, Contested Selves