A Fairy Tale for Kids of all Ages! Now in print!
On a particularly snowy school-day morning, Annie and Ben Prockner go their separate ways to drive their two children to school: Annie takes thirteen-year-old Max, while Ben drives eight-year-old Patty. The blizzard thickens, and the mist between worlds thins. It doesn't take long before they each realize that they aren't in Kansas anymore: separately, mother and son, father and daughter have passed through the veil.
In the transition to this new world, the Prockners discover that they have been transformed physically and granted magical abilities they must learn to master. The valley they find themselves in is primitive but rich with magic, which at first seems impossible to this reality-weary suburban family. But soon they learn about the violent local politics on the verge of an all-out war, and they're unavoidably involved–on opposite sides of the conflict!
In  a fantastical world filled with Centaurs, Giants, Gnomes, Zombies, Trolls, Mermaids, Pixies and more, a villainous Swamp Ogre named Barthas has raised an army and is causing murder and mayhem among the gentle citizens of the Painted Valley. Ben and Annie, Max and Patty, must each learn to use their newfound abilities as mortal danger threatens both parents and children. With the unexpected help of a quirky hearth Witch, a fussy Sorcerer, and an impetuous Brownie, the rebels of the Valley strive to regain peace, while a blind Seeress plays both sides to force the war to a near cataclysm.
Mombie: The Zombie Mom is funny, scary, and a perfect choice to read aloud with the whole family. With brilliant illustrations by artist Jake LaGory. Read Mombie Chapter 11 right now!
Paperback only $16.95. Order yours today! Or download the eBook and share it for fourteen days at no charge.
 About the author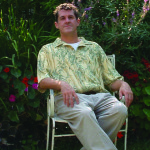 Barry Burgess grew up on Long Island in a time when the vineyards were still potato farms. He and his brother raised pet crows and were often seen cawing at the sky.
After attending Vassar College, where he explored his interests in biology and ballet and made lifelong friends, he enrolled in the Harkness School of Ballet, where he studied with Elena Tchernichova. Later he became a designer in NY's garment industry.
Today he lives in an enchanted cottage with a secret garden filled with hummingbirds and Pixies—a home disguised as a post-war bungalow hiding behind a row of ancient Arbor vitae in suburban Yonkers, NY. There he and his beloved rescue pit bull, Daphne, honor the Goddess by planting dahlias in the garden and preparing delicious meals for visitors and family.
About the illustrator
Jake LaGory is an illustrator and art teacher in Asheville, NC. Raised in Chicago on a steady diet of canoe trips, monster movies & Saturday cartoons, he uses art to connect his curiosity about the natural world with his interest in imagining the oddities that could inhabit it.
His previous work includes writing and illustrating a Cryptozoology-themed coloring book, and single illustrations that offer whimsical interpretations of sci-fi and pop culture figures. He exhibits his work at Studio ZaPow, an illustration and pop culture gallery in downtown Asheville. The range of his art can be seen at http://cargocollective.com/jakelagory.