Don't miss this reading from Lanky Tales, Vol. I, A Christmas Gift!
And now you can order the boxed set of four eBooks from Kindle,
at Amazon.com, for just $5.99!
The final exciting Lanky story is here, in print and eBook formats!
The Mystery of Claggett Cove: A Lanky Tale available now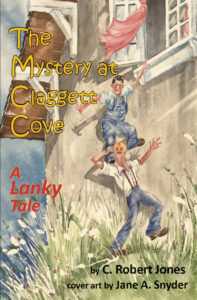 When a new family comes to Claggett Cove, the small mountain town where Lanky Lonegan lives with his widowed mother, Lanky discovers both a rival and a new friend in young Woodrow Claggett, great-grandson of the town's founder. It's 1913, and Lanky is a 6-foot, 4-inch tall rascal, full of energy, charm, and a determination to follow the timeless advice to "go and find out!" His curiosity has landed him in trouble before, but his motives are never in question. It's just that being 13 years old means that doing the right thing sometimes entails going about it in the wrong way.
Woodrow is there to spend the summer in Claggett Cove, and at first the two boys get off on the wrong foot. But soon they feel compelled to investigate some strange goings-on, beginning with a "WANTED" poster appearing in the window of the village store. Lanky's imagination is stimulated — and when the poster disappears soon after a mysterious stranger arrives in town, he is determined to find out why. Soon enough, suspicion falls on one man and then another, as the story of a $10,000 dollar bracelet stolen from a museum in faraway Boston, Massachusetts gets around town.
Lanky and Woodrow are determined to find out the whole story. Little do they know that the desperate thief will do anything to keep from being found out, and their lives are put in danger more than once as they pursue clue after clue to solve the mystery.

Lanky Tales, Vol. 3: A Good and Faithful Friend & other stories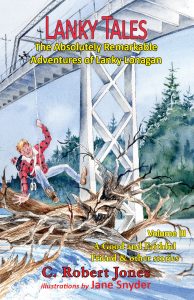 Catching a rabbit thief, performing in Shakespeare's Macbeth, seeing the local preacher chased through a field by an angry bull … once again Lanky Lonagan finds himself in trouble, causing trouble, and helping others get out of trouble. In this third volume of Lanky Tales, the foolish and the profound work side by side to help thirteen-year-old Lanky discover and develop strong personal ethics and find ways to live his values in everyday situations — just as people do in real life.
In the title story, true friendship is explored and rewarded: the friendship between Lanky and an old hermit, the loyalty of a dog for its master, and the honor of a man who took the blame for something he did not do, in order to save his friend from shame.  And when a massive logjam causes a flood that threatens to swamp the village of Claggett Cove, Lanky finds himself in the familiar role of unwilling hero.
Lanky Tales are timeless, and the moral truths that infuse them help readers understand how important it is to learn the difference between right and wrong, and how simple it can be to make the right decisions … if we choose to do the right thing.
The books are aimed at young readers from eight to twelve, though the entire family will enjoy them. To order, click here. To have your copy personally autographed by C. Robert Jones, email pisgahpress@gmail.com. Includes multiple illustrations by artist Jane Snyder.
Available now! Order today!
Lanky Tales, Vol. 2: Billy Red Wing & other stories
Imagine a young boy who's already six feet, four inches tall at age thirteen, and you'll know how Laurence Lonagan got the name "Lanky." And these Lanky Tales are all about him!
In the title story of Volume 2, Billy Red Wing, a Native American whose ancestors refused to follow the infamous Trail of Tears to Oklahoma, is living in the forested mountains that surround Claggett Cove. There he provides for his wife and young daughters and occasionally risks a visit to the village to trade his skins, furs, and home-made goods in exchange for needed supplies. When an epidemic suddenly devastates the children of Claggett Cove, the townspeople have no one to turn to but Billy for a cure. And Lanky alone knows how to find the Indian man–despite the dangers to them both!
In other stories in this volume, Lanky discovers why two elderly neighbors are unable to bridge their differences, finds his Maw trapped in the attic, and learns about the shady past of a travelling salesman.
Lanky Tales are funny, thoughtful, and timeless–as well as morally uplifting and fun to read. They're designed for boys and girls from eight to twelve, though the entire family will enjoy them. To order, click here. To have your copy personally autographed by C. Robert Jones, email pisgahpress@gmail.com. Includes multiple illustrations by artist Jane Snyder.
Available now! Order today!
Lanky Tales, Vol. 1: The Bird Man & other stories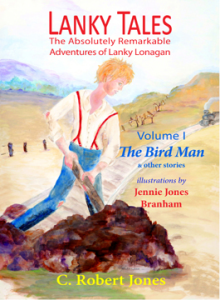 It's 1913, long before radios, television, and computers. Even telephones and automobiles are rare in the small mountain town of Claggett Cove, where Lanky lives with his widowed mother. Lanky's adventures always seem to happen when he tries to help somebody in trouble or when he gets a well-intentioned idea to make some situation better. And then … wham! Things go horribly wrong.
But with his clever, quirky, and often humorous way of looking at things, Lanky saves the day–often with the support or asistance of some of the most fascinating characters in children's literature–the neighbors and friends who populate Claggett Cove or stop by for a visit.
Lanky Tales are funny, thoughtful, and timeless and are designed for boys and girls who are in the "tween years" (9-12), but are fun for all the family. To order, click here. To have your copy personally autographed by C. Robert Jones, email pisgahpress@gmail.com. To learn more about Vol. I illustrator Jennie Jones Branham, visit her page at the Trenholm Artist Guild.
Author C. Robert Jones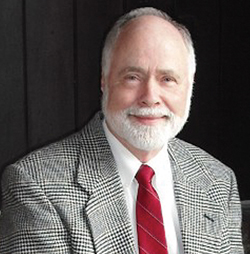 C. Robert Jones holds degrees from the Universities of South Carolina and Georgia and from The Catholic University of America in Washington, DC. He also studied at the Sorbonne in Paris and at the University of Dijon on a Fulbright grant.
He launched his professional career by directing twenty-six shows back to back in four seasons at the Little Theatre of Savannah in Georgia. That was followed by thirty-one years as a college professor, chairing theatre programs at Gardner-Webb University and Mars Hill University.
As a playwright, he has written about fifty plays covering a wide spectrum of styles and genres. In 1979, his musical Rivals was honored at the University of Michigan for a David B. Marshall Award in Musical Theatre. His play Chiaroscuro (Nocturne) was a winner in Theatre Memphis's national play search and premiered there in 1984. His plays The Catbird Seat and The Love Quartette were winners of the Robert Chesley Foundation Playwriting Award in 2011.
C. Robert was one of the founders of the Southern Appalachian Repertory Theatre (SART) in 1975, and he has had a hand in converting found spaces into theaters in all three work locations. Two of his most cherished professional experiences were his three-month writing residency in 2012 at the Helene Wurlitzer Foundation in Taos, NM, and being a National Endowment Fellow at Yale University in 1995.
I Like It Here! Adventures in the Wild & Wonderful World of Theater
by C. Robert Jones, with an introduction by
Richard Rose
,
Producing Artistic Director, Barter Theatre
Whether it was the opening night of Breath of Life with Judi Dench and Maggie Smith in London, or the pre-Broadway opening of Carol Channing's Hello Dolly! in Washington, D.C., or experiencing Laurence Olivier and Vivien Leigh in Macbeth at Stratford-upon-Avon, C. Robert Jones has enjoyed a lifetime of adventures as playwright, director, teacher, composer, and avid theater-goer—adventures that have taken him to fascinating places filled with fascinating people.
At fifteen, he asked for an interview with Metropolitan Opera singer Lily Pons for his high school newspaper … and got it!

In graduate school, he was in a USIA film about the Supreme Court, his scenes being filmed in the DC jail.

Twenty years later he was hosted for the opening of his musical, Mandy Lou, in Charleston, SC by Alicia Rhett (India Wilkes in Gone with the Wind) and then acted with Peter Sellers in Being There.
There are probably few playwrights who can say that the playbill for their first play was printed in the White House. Along the way, he crossed paths in illuminating ways with such legends as Marcel Marceau, Johnny Mercer, Julie Harris, Edward Albee, Sherwood Schwartz, Olivia de Havilland and Joan Fontaine, Claire Bloom, Rosemary Harris, and Hal Holbrook. I Like It Here! chronicles these stories, along with many others, and also tells the backgrounds of several world-premiere productions he directed: Bernard Sabath's You Caught Me Dancing, Steve Bouser's Senator Sam, and his own musical, The Clown. Taken as a whole, C. Robert's adventures provide a charming slice of theater life in the last half of the 20th century.