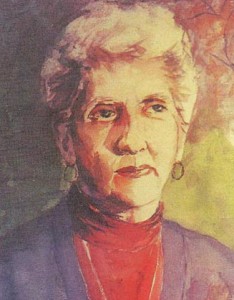 Donna Lisle Burton grew up beside the Ohio River in eastern Ohio, in an area of coal mines and steel mills, now mostly gone. For most of her life she has lived in the South, where she worked as a special education teacher. She spent more than a decade in Montgomery and Tuskegee, Alabama, and lived for many years in Greenville, SC. In 2001 Burton moved to Western North Carolina, settling into a house on a gravel road near the Blue Ridge Parkway in Fairview, a few miles south of Asheville, where she lives with her husband, Alan.
Burton has studied with such luminaries as Gilbert Allen of Furman University in Greenville, SC, and Cathy Smith Bowers, North Carolina's Poet Laureate, 2010-2012. Her poems have appeared in Atlanta Review, Illuminations, Potpourri, Main Street Rag, Kalliope, The Licking River Review, and other publications. She is also an accomplished painter, portraitist, and photographer, and nine of her drawings, including the self-portrait above, are included in Letting Go.
Letting Go is her third collection of poetry and the first to be released by Pisgah Press. It previously appeared in a limited edition printed in Greenville, and we are honored to reissue such a remarkable collection under the Pisgah imprint. Her vision – the perception of a poet – is seen clearly in this gem, "Margaret":
Margaret
"Macular Degeneration (age related
maculopathy) . . . results initially in distorted vision and
eventually in a loss of central visual acuity."
Merck Gerontology Manual
Dear old friend,
we know what's going on here.
What medicine cannot understand
it names.
Your vision has always been
creative.
You do not stare to see;
you only glance
with that third eye.
As one seamstress to another
we know that with fabric in palm,
we move the thumb back and forth
over it, though not touching it,
to know it.
You tell me now you cannot see clearly
what you are looking at: the center is gone.
But I say to you
it always was.
You've just come into your own
my friend, and someone's given it
a name,
a pathology,
a thing to run from
I say at last you're free.
Relieved of facts,
you can now see as you've always seen,
looking at the center of things,
right at the heart
of them.
Order Letting Go from our CreateSpace store!