Pisgah Press will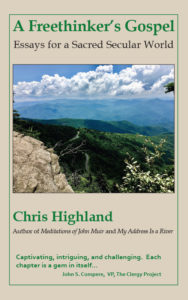 launch Asheville humanist writer and speaker Chris Highland's new collection of essays, A Freethinker's Gospel: Essays for a Sacred Secular World, at Malaprops Bookstore in downtown Asheville, NC on Tuesday, Oct. 23 at 6 p.m. The reading and signing is open to the public, but space is limited, so arrive early! Then, on Thursday, Oct. 25 at 5:30 p.m., Chris will be the featured guest at Grateful Steps Publishing for its October "On Faith" presentation, where he will discuss his own journey from evangelical Christian to freethinking humanist.
reading from her forthcoming collection Open for Lunch
Malaprops, November 16 at  6 p.m.
Robin Russell Gaiser's first book, Musical Morphine: Transforming Pain One Note at a Time, has been selling like hotcakes wherever she makes an appearance — the Adirondack towns where she began her career, outside Washington, D.C., at a reunion week of her award-winning band, and at bookstores and faith communities and meetings of specialists on aging and end-of-life care. She will launch her new memoir, Open for Lunch, a collection of encounters with strangers at fast-food restaurants up and down the East Coast, with a reading and booksigning at Malaprops in Asheville on Nov. 16. Seating is limited, so arrive early.