Don't miss Robin reading from

Musical Morphine

at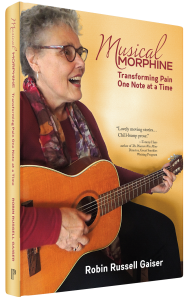 Musical Morphine: Transforming Pain One Note at a Time is the culmination of years of study and experience in Robin Russell Gaiser's chosen profession of Certified Music Practitioner (CMP).
Robin grew up the daughter of a trained classical musician and teacher, whose approach was literally by the book: study theory, follow the score, play in the key as written, avoid improvisation or experimentation.
But Robin herself, with perfect pitch and instant, complete, recall, found herself, even as a small child, playing by ear what she had just heard in performance, and even improvising her own tunes. She started piano lessons with her mother, but that ended quickly when Robin continued ignoring the lesson book.
Two years later, however, she persuaded her parents to enroll her in violin lessons and quickly learned to read music with her Italian teacher; within months she was invited to join the advanced orchestra, where she was soon first violin. Then, as a young teen during the heyday of '60s folk music, she finally satisfied a long-growing curiosity about the guitar by borrowing one from a friend, learning basic chords, and then, with her scant savings, buying her first instrument for $25.00. A few months later she upgraded to her beloved nylon-stringed Goya, which she still owns and plays.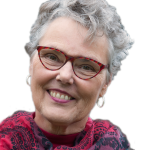 After a lifetime of performing in concert halls, on recordings (seven of which are in the Smithsonian's collection), and live in small venues, and following careers as a high school teacher of English literature and composition and as a guidance counselor, Robin found a new niche: CMP.
In that work she combines her love of acoustic music and talent on multiple instruments — guitar, violin, harp, Native American flute, among others, as well as her voice, which embraces not just singing lyrics but also chanting, toning, humming a cappella — with a guidance counselor's insight and profound personal empathy, to help heal the spirits of those in critical care and in the final weeks, days, and moments of their lives.
The work of a CMP is not that of a Music Therapist, nor is it what we think of as music "performance." A CMP plays music for the patient in accordance with his or her needs: not to heal or cure, but to bring comfort and, perhaps, solace and joy.
Gaiser listens, watches, picks up clues such as presence or absence of family pictures, jewelry (Star of David? Crucifix? Christian cross?) or imagery on the walls. She is alert to the breathing patterns and skin tone and other indications of the physical state of the patient. She notices what the visitors or family members gathered around are like — what they wear, their nervous tics, spoken or unstated denials or fears, and how they interact with the patient — and with her.
Above all, she ensures that the instrument she chooses and the type of music she plays is what the patient needs, whether to ease pain, or ignite happy memories, or bring spiritual comfort, or, sometimes, ease the actual passage from life to death.
Musical Morphine already has hundreds of fans who have followed Robin Russell Gaiser's blog posts about her work. Now, as the book and its companion audio book (published by Talking Book of Asheville, NC) become widely available, her work and her story will be able to help countless individuals and families as they face a time of transition in their lives.